I spent this last week at Mom and Dad's staying with Mom while Dad traveled down to a reunion in his small hometown in California.
I drove Mom to dialysis in Salem three days, and during those days I needed to figure out what I wanted to do with the four-hour time between drop-off and pickup.  I had noticed that the St. Vinnie's thrift store was across from the dialysis center and thought some thrifting time would be in order, so I went across to the St. Vinnie's and found a great deal on some old Nancy Drew and Dana Girls (like Nancy Drew but with sisters) books — 1930s books WITH the original dust jackets in very good condition for only $3.49 apiece!  I also got some Sue Grafton books, a couple by Aaron Elkins, another mystery writer, and a 1940s Mary Poppins book. I had planned to go to some other thrift stores in the area but decided to go home to eat and get something I forgot to bring with me. 
Most of the time at the house I spent with Mom in the living/dining room watching HGTV and Hallmark Christmas movies. We find the movies very predictable and Mom has seen most of them, but she still likes to watch them. It's not so bad to have a day full of happy endings! I set up all my things on the dining room table, I pretty much just brought my desk (computer, calendar, books, etc.) and then set up a charging station on the buffet, ha. It is the house I grew up in (but remodeled) and I got to thinking about what will happen to it if Mom and Dad decide to move to town like the neighbors are doing. It will be hard to see it go out of the family, since Mom and Dad built it 48 years ago. The house is octagon-shaped, so very unusual. I forgot to get a photo of it.
On Friday when Mom was in dialysis, I went to the grocery store to get some things. Mom wanted a roast so I got two (BOGO!) although they weren't the kind she wanted. I waited in the line that had a very big, very slow cashier-in-training. He also seemed to be a bagger-in-training and a coupon-reader-in-training, and the poor guy was sweating. He kept having to ask another cashier to come help him, but I think she really just wanted to talk to the man who represented a Medicare supplement insurance company! After buying groceries I decided to hit up two other thrift stores, the Salvation Army store and the Goodwill. The Salvation Army store doesn't have a big selection in general, so I went to the book section. I seem to be on a book kick lately. The books at the Salvation Army store are not in any kind of order at all, so you just have to scan the shelves to see if anything pops out at you. I found all these books I was interested in at the Salvation Army and Goodwill (the Perry Mason and "E for Evidence" came from the Goodwill), so I was happy with my scanning job! The Goodwill at least has the books in category and "letter" order, but not completely alphabetical. There were so many people at the Goodwill I just left after perusing the book section.
After I picked Mom up from dialysis on Friday we went to Nancy Jo's restaurant (Or Nancy's, as I still stubbornly refer to it, since it was their original name. There was some copyright problem, so they changed it to Nancy Jo's.) to get burgers, and Mom got onion rings. We drove home in one of those traffic-jams-for-no-reason on the freeway, there was no accident or any reason for a traffic slowdown but we crept along for miles before the traffic started moving shortly before our exit. Since Mom would have a hard time getting into my van, I've been driving her to town in her car. It is quite zippy and I have enjoyed driving it, although it feels like I'm going slower than I actually am so I need to pay close attention to the speedometer!
On Monday after I dropped Mom off I had to pick up some things I ordered online. I ordered these Christmas ornaments from Target to pick up at the store, but unfortunately there was only one left between both of our area stores. Isn't it cute? Since The Hubs likes trucks and we are doing a black and white and blue theme for Christmas this year, I thought it was perfect. It will also go with red and black or pink and black themes. I do themes now instead of using our family and traditional ornaments because the ornaments and decorations have to be plastic or metal so Philip won't hurt himself with them. He does try to get them off the tree and has knocked the tree over a couple of times by climbing up into it.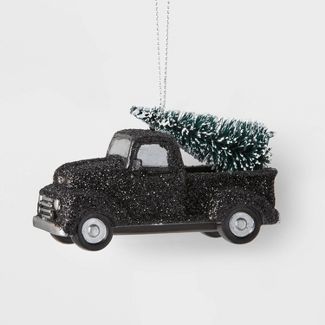 I also picked up some things I ordered at Ulta on Monday. The girl at the checkstand there had combed her eyebrows straight up and then penciled them in so it looked like she had really long, straight up eyebrows. I had to try hard not to stare. Is that a thing now? When I think of long eyebrows growing straight up I think of an old man, so I wondered why she wanted to look like a grandpa, ha. They do hire some of the most interesting-looking people at Ulta and many of them have what I would consider odd eyebrows, but then I really do prefer the natural look for brows. Eyes, go ahead and do 'em up! Lashes to the sky! But eyebrows, just pencil them in natural-like and not conspicuous. After Ulta, I went to TJ Maxx and bought all sorts of socks I really don't need. 'Tis the time of year when warm fluffy socks in the store seem so inviting!
Dad got home on schedule and right when the "bath girl" was finished helping Mom. We were glad he arrived safely. He had a good time at the reunion and visiting with my uncle and other friends.
I had a nice, relaxing visit taking care of Mom this week. I meant to work on some writing and reading and didn't get to that, but that's okay. I leave you with this photo of the view from Mom and Dad's dining room deck.